One of the most common uses of ID cards is for the identification and authentication of citizens to access rights or benefits in society. This can range from voter IDs in emerging democracies through to multi-application national ID cards used to cross borders. Many state or federally issued driver's licenses are printed locally on desktop retransfer printers. High levels of visual or electronic security are a fundamental tenet of an effective citizen ID and can range from electronic keys stored on the smart card's chip to visual security elements including holograms, UV printed images and Magicard's HoloKote watermark. Learn more about Photo ID cards.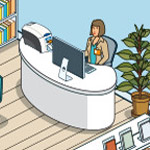 Local and district governments frequently issue ID cards for access to community facilities such as libraries, sports clubs and social centres. By utilising more advanced multi-application smart cards these localised applications can be integrated with a federally issued card such as a national ID. Learn more about Loyalty & Membership cards. 
Protecting access to secure government facilities and infrastructure is important to protect critical functions and to counter disruptive threats in today's World. As one of the largest employers in most societies, federal, local and district governments use physical access control and the issuance of secure ID cards to ensure that only those individuals who are permitted to be in specific facilities are granted access. Learn more about Physical access.
Access to information is a fundamental citizen's right in a functioning democratic society. Locally or federally issued citizen ID cards can be used to help gain access to general information such as e-learning resources, community events or available benefits. A smart card with the appropriate secure keys and logical access application can also be used online by citizens to access, update or amend personal information held about themselves by government organisations. Learn more about Logical Access.
Government-backed payment schemes can also be administered using smart ID cards. This could include a card for the receipt of benefits such as welfare, housing or medical services or indeed the use of a government ID card with a pre-loaded payment application to securely transact for government services such as the payment of local taxes, fines or tolls. Learn more about Payment cards.