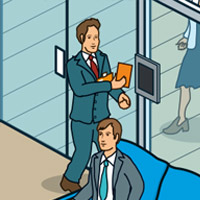 Electronic data, securely written to a smart card at the point of issuance can be used to grant access not only to the front door, but also privileged access to more secure departments or assets within the building itself. A smart card is typically presented to a card reader, linked to a physical access control system (PACS) which authenticates the individual and permits access. Access rights can be revoked or amended at the touch of a button. Learn more about Physical Access.
Access to corporate data and networks via desktop PCs, laptops and mobile devices can be granted, monitored and protected using a logical access control system (LACS). A separate application can be written on to the chip of the card alongside the physical access application to enable this. Normally, a terminal attached to the network access point or a reader within the hardware itself will securely read keys and data from the card. This can sometimes be coupled with a password, or for three-factor authentication to highly secure or sensitive company information. Learn more about Logical Access.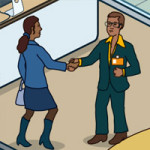 Most enterprises now issue employees, contractors and visitors with cards in order to verify identity. ID card printers enable the instant printing of these cards by HR or facilities departments for employees and visitors. Ensuring these cards cannot easily be copied is a fundamental security requirement which can be achieved by using additional visual security features, such as Magicard's HoloKote watermark, on each card. Learn more about Photo ID's.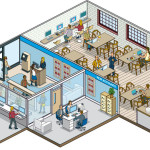 An additional application can be written to a multi-use employee ID smart card for payment. This can be pre-loaded with money or even linked to a payroll system to enable cashless payment for goods, for example from vending machines or from the staff canteen. Learn more about Payment Cards.
Often linked to a physical or logical access control system, a time and attendance application enables the smart card to be used to track an employee's hours of work and movements within buildings and networks. Technologies deployed can range from a magnetic stripe 'swipe' system to a more advanced tracking technology using Ultra High Frequency proximity cards which can pinpoint the cardholder's whereabouts. Learn more about Time and Attendance cards.