Touch screen ID kiosk
Ideal for the instant issuance of printed ID cards, passes and smart cards using or self service kiosk.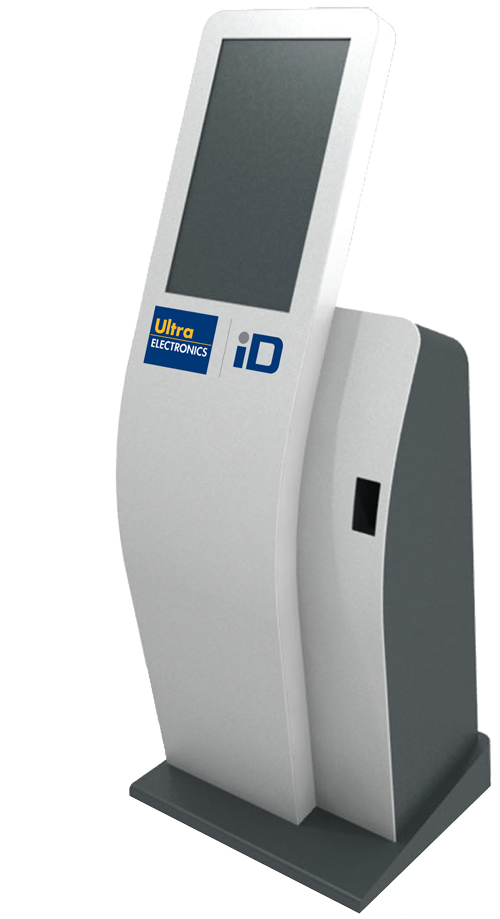 Self-service card issuance solutions
Our plastic card issuing self-service kiosks are based on a standard template that can be customised and adapted to individual requirements.
The touch-screen provides an easy-to-use interface to a powerful PC that can run any card issuance application from visitor management through to the localised issuance of payment cards.
Magicard ID card printers can be easily fitted into the design in order to dispense secure plastic cards. Cards can be fully personalised with colour printing, magnetic stripe and/ or smart card encoding (contact or contactless) and can even feature Magicard's secure HoloKote™ watermark feature.
Optional components
• Touch screen interface
• Custom UI
• Enduro3E ID card printer
• Rio Pro ID card printer
• WiFi
• POS terminal
• Webcam
---
Typical applications
• Self-issuance of prepaid financial cards
• Visitor management solutions
• Access to public services via smart ID card
• Transport and ticketing
| Display | Details | |
| --- | --- | --- |
| | 22″ widescreen portrait | |
| | Resolution 1050 x 1680 | |
| | Multi-touch touchscreen | |
| System | Details | |
| | Intel Core2Duo/Core2Quad computers | |
| | 1GB to 8GB RAM | |
| Options | Details | |
| | Integrated speakers | |
| | Internal receipt printer | |
| | Chip + pin payment terminal | |
| | Contactless card reader | |
| | Internal barcode scanner | |
| | Smart card printing | |
| | Magnetic stripe printing | |
| Dimensions | Details | |
| | Model shown: width 535mm x depth 660mm x height 1510mm | |
| | Other formats available | |
Get access to public services via smart cards

Transport and ticketing kiosks

Visitor management solutions